McCutcheon's History
---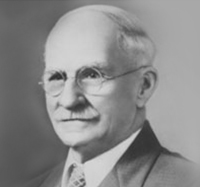 1938 | Humble Beginnings
In 1938, at the age of eighty, William O. McCutcheon retired from the Colt & Dixon Canning Co. in Frederick, MD. Being an energetic and industrious man, he was not ready to give up working. With the help of his son Robert J. McCutcheon and Robert's wife Helen M. McCutcheon, they purchased a used apple press for $25.00 and quickly got to work.
1938 – 1950 | Downtown Frederick Apple Press
The family set up the used apple press on a property in downtown Frederick, MD and began custom pressing apples for local farmers. As the years passed, the family added the service of custom boiling the local farmers' apples into apple butter using the farmer's own recipes. After his son's death in 1947, William O. continued to run the business with Helen and her two sons, Robert J. McCutcheon Jr. and William J. McCutcheon.
1950 – 1990 | A Family Production
McCutcheon's operation remained very much the same up until the early 1950's when they built more modern buildings to house their operations. At this time, McCutcheon's began producing Apple Cider and Apple Butter under their own label and began selling their products to vendors around the area and in the small retail store alongside the factory.

Robert J. McCutcheon Jr. (Bob) purchased the family business in the early 50's from his grandfather, William O., before his passing in 1953. A few short years later, William J. McCutcheon (Bill) joined his older brother as his business partner. The brothers began to increase the number of products that McCutcheon's would produce to include preserves such as strawberry, blueberry, and peach.

To help with the added work, the children of Bob and Bill were often enlisted to perform many tasks in the time they had free from school. As they grew older, the fourth generation began to find their place in the family business. In the 1980s, 4th generation family members began to take on more prominent roles in the business. Eventually Robert J. McCutcheon III became company President, and Vanessa McCutcheon Smith, Michael R. McCutcheon, and William J. McCutcheon Jr. all took on roles as Vice Presidents.
1993 – 2015 | McCutcheon's New Facility
McCutcheon's constructed and occupied a new facility on the original site in downtown Frederick, MD.
2015 – Present | The Future of McCutcheon's
McCutcheon's Apple Products is right across from the Carroll Creek Phase II new walkway and is looking forward to some new expansions in their Factory Store in the future. As time goes on, McCutcheon's will continually be adding new products to our beloved selection while staying committed to maintaining the highest quality ingredients for the best home recipe products. Visit our Shop page to see all of our products available for order or visit our Factory Store in Frederick, MD to see for yourself!
McCutcheon's has over 30 full-time employees, including 16 family members from 4th and 5th generations, all working together to bring you the world-famous McCutcheon's homestyle taste and quality you've come to enjoy.
---